Day 6 Tsaritchina Biosphere Reserve
After early breakfast, we drive to the Tsaritchina Biosphere Reserve, another exciting mountain area, a distance of 30kms, to meet up again with our ranger who has to provide our more convenient 4WD transport & local knowledge. Once aboard the 4WD, we will climb ever upwards until the track expires. Our quest for the morning will be the Nutcracker. Pine forest birdlife include also Ring Ouzel, Common Crossbill, Mistle Thrush, Dunnock, Bullfinch, Treecreeper, Goldcrest, Firecrest and Tree Pipit. The mountain zone of the Reserve produce views of Alpine Accentor, Shore Lark and Water Pipit. After a picnic lunch, we walk down through the beech forest & our ranger would meet us 5 kms down the track. Here we look for White-backed Woodpecker, Wood Warbler, Marsh and Willow Tits, Treecreeper and Grey Wagtail. Dinner and overnight stay in our high-level base.



Day 7 Central Balkan National Park - Melnik
After breakfast we explore the beach forest around the Boatin Biosphere Reserve, looking for Red-breasted Flycatcher and White-backed Woodpecker.
Later on we drive 120 miles to the lovely and traditional wine-producing village of Melnik in the south-western corner of the country, nestled in a picturesque gorge. It is located between three majestic mountains bordering Macedonia and Greece. Stop off en route to explore some outstanding birding locations. Here is the best place in Europe to see several South-Eastern specialities: Woodchat Shrike, Red-rumped Swallow, Crag Martin, Barred and Orphean Warblers, Sombre Tit, Ortolan, Black-headed and Rock Buntings. Stop off at the impressive, historic Rila Monastery. Picnic lunch, traditional restaurant dinner and overnight stay at a beautiful local guesthouse near Melnik.

Day 8 Melnik - Kresna George
Today we will explore the countryside and two adjacent Mediterranean-like areas, located in the bosom of an ancient volcanic cone near the border of Greece. The cone is bisected by the river Strouma. We will look for Chukar, Rufous-tailed and Blue Rock Thrushes and other unusual passerines, such as Rock Nuthatch, Black-eared Wheatear and Rock Sparrow. Wildlife includes several Mediterranean butterflies like Little Tiger Blue, Cardinal, as well as some interesting dragonflies, such as Scarse Chaser. Eastern Four-lined Ratsnake, Leopard Snake, Kotschy's Gecko and two species of tortoises are among notable local reptiles, which also feature in the tour. En route, we will visit one of the oldest Bulgarian monasteries, the Rojen monastery. Picnic lunch, traditional restaurant dinner and second night in our guesthouse.

Day 9 Excursion to Greece



Today we will explore the Kerkini Lake National Park – one of the most significant wetlands of Greece and Southern Europe. The lake holds impressive numbers of Great Crested Grebe, 6 species of heron and egret, good numbers of breeding Whiskered Terns, Ferruginous Ducks, Glossy Ibis, Pygmy Cormorants and non-breeding Dalmatian and White Pelicans. Here we shall try to find flocks of summering Greater Flamingos, Eleonora´s Falcon and Spur-winged Lapwing. In the surrounding areas we will look for Isabelline and Eastern Black-eared Wheatears, Ortolan Bunting, and other interesting species including Orphean, Sub-alpine and Sardinian Warblers. Picnic lunch, traditional restaurant dinner and third night in our guesthouse.

Day 10 Melnik - Devin (Western Rhodopes)
We take a four-hour drive to an impressive canyon in the Western Rhodopes Mountain, the kingdom of the exquisite Wallcreeper and Orpheus flower (Haberlea rodopensis), which is a unique Bulgarian endemic. En route, we will see the open landscapes gradually changing to riverine valleys. Long-legged Buzzards, Red-backed Shrikes, Spanish Sparrows, Balkan Wagtails, Serins, Rock Thrush, Scarlet Rosefinch, Yellowhammer, Black-headed, Rock and Ortolan Buntings are among birds we look for, also keeping an eye out for mammals and reptiles. In the villages before the mountains we will look for White Storks, Little Owls and Syrian Woodpeckers, whilst the mountain streams hold White-throated Dipper and Grey Wagtail. Overnight stay in a cosy guesthouse in the charming mountain village of Devin.

Day 11 Devin - Eastern Rhodopes Mountains
After breakfast, we will take an hour drive to the very picturesque Trigrad gorge, which is one of the best places in Europe to look for the delightful Wallcreeper. Peregrine Falcon, Short-toed Eagle, Alpine and Pallid Swifts, Crag Martin and Rock Bunting can also be found there. During this trip we are according high importance to finding mammals with Balkan Chamois being top of this tour list. Late in the afternoon, we will drive to the Eastern Rhodope Mountains and spend the next two days in a nice and very well located complex overlooking the Arda river.



Day 12 Complex Arda - Studen Kladenetz Dam (Eastern Rhodopes)
Today we will explore the Eastern Rhodopes with their exceptional diversity of raptors including 3 species of vulture, Booted and Short-toed Eagles, Peregrine Falcon, Hobby, Long-legged Buzzard, Levant Sparrowhawk and Goshawk, and, with a good luck, Saker Falcon and Eastern Imperial Eagle. We will be exploring the impressive volcanic canyons of Studen Kladenetz dam and the Arda River valley, with their cliff-nesting populations of Black Storks. Vultures will be watched at a special feeding platform, the so-called "Vulture restaurant" where a hide for carrying out observations has been built. Eastern Imperial Eagle, Golden Eagle, Black Kite and other appetising raptors are also being attracted to this feast. Apart from raptors, the Eastern Rhodopes also offer an amazing diversity of bird life and our thirst for new sights & species will indeed be quenched after the intensive encounters and observations of different small passerines such as: Masked and Woodchat Shrikes, Red-rumped Swallow, Olive-tree, Olivaceous, Barred, Orphean, Sardinian and Sub-alpine Warblers, Alpine and Pallid swifts, Crag-martin, Rock Nuthatch, Isabelline and Black-eared Wheatears, Sombre Tits, Blue Rock Trush and many others. Second night in Arda Complex in the hearth of Eastern Rhodopes Mountains. The place is best for Vulture observation on the cliffs just in front of our base.

Day 13 Eastern Rhodopes - Sakar Mountain - Burgas
After breakfast transfer (150 miles) to the Southern Black Sea coast. For the next two nights our base is a small port just a few miles to the north of Burgas. We stop off to explore Sakar Mountain, close to the Turkish border. Levent and Goshawk, Lesser Spotted and Short-toed Eagles, Barred and Eastern Bonelli's Warblers, Isabelline Wheatear, Grey-headed and Middle Spotted Woodpeckers, Bee-Eaters, Rollers, Masked and Woodchat Shrikes, Golden Oriols, Cirl and Corn Buntings, are among bird species we look for, with an outstanding possibility of Eastern Imperial Eagle. Dinner and first night at Mirana charming family hotel overlooking the Black Sea.

Day 14 Burgas and Pomorie Wetlands
Today's exploration of nearby Lake Atanosovsko and surrounding saltpans promises a phenomenal range and quantity of birds - far too numerous to list! This is Bulgaria's premier bird location - in fact one of Europe's principal 'hot spots' and one of the country's ten "Ramsar" sites. The 1690 ha complex includes extensive saltpans, freshwater pools, marshes and areas of scrub and semi-steppe. The reserve's position on the east European Via Pontica flyway attracts a great variety of migrants in spring and autumn. More than 300 bird species have been recorded here. We will be able to enjoy the spectacle of the lake's breeding birds, including some hundreds of Avocets, Black-winged Stilt, Collared Pratincole (Black-winged have been seen here too!), Kentish Plover, Gull-billed Tern, Mediterranean Gull, Sandwich and Little Terns, Marsh Harrier and Penduline Tit. Caspian Tern, Slender-billed Gull and Squacco Heron are also seen at this season, and we may turn up Marsh, Broad-billed and, with luck, Terek Sandpipers. Cetti's Warbler and Little Bittern breed in the reedbeds, and Black-headed Buntings, Balkan Wagtails and Red-backed Shrikes are numerous on fields surrounding the lake. South of Burgas we visit the reed-fringed Lakes Mandra and Poda with flanking water meadows and woodlands. The reedbeds of Poda host a mixed breeding colony of Spoonbill, Purple, Squacco and Night Herons, Little Egret, Glossy Ibis and Pygmy Cormorants and, for the first time in Bulgaria, several pairs of Cattle Egret. Further along we reach Alepou marsh wetland and look for White-tailed Eagle, Honey Buzzard and foraging Little Egrets, Glossy Ibis and Squacco herons. In the late afternoon we visit the Ropotamo river wetland complex and explore the wooded mountains of Strandja, where we look for Lesser Spotted Eagle, White-backed and Grey-headed Woodpeckers, Eastern Semi-collared Flycatcher and Woodlarks. Diner and second night at Mirana Hotel.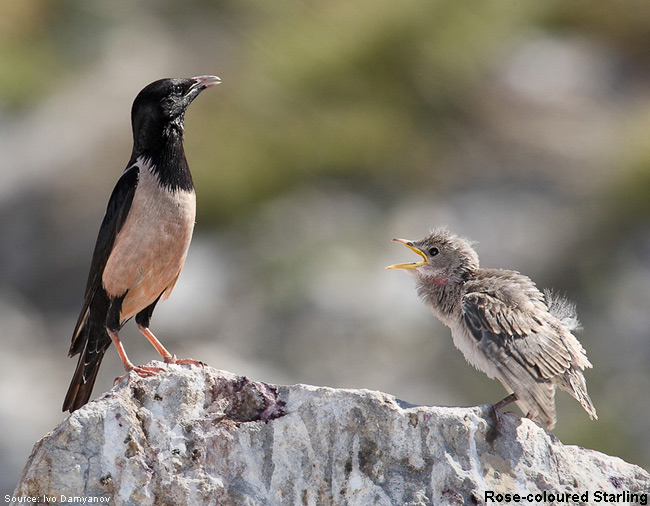 Day 15 Pomorie - Kamtchia River - Varna
After breakfast transfer (120 miles) to our last base at Branta Birding Lodge. Heading north we pause at the Salinas of Pomorie to see the usual show of waders. The adjacent small village is one of the best places in Europe to see a huge colony of Rose-coloured Starlings where they use to breed every two-three years. An hour will be spent in the ancient town of Nessebar featuring a great deal of traditional architecture. Birds on the scene include the Yelkouan Shearwater, Yellow-legged Gull and its sub-species michahellis. Continuing north the route ascends through the wooded hills of Eastern Balkan mountain range, bringing us to our next stop at Cape Emine. Reaching cliff-top scrub above the sea we look for cetaceans. Breeding birds include Sombre Tit, Rock Bunting, Woodchat Shrike, Wood Lark, Tawny Pipit, Barred, Olive-tree and Olivaceous Warblers. In the afternoon we stop off to explore the Kamchiya Reserve with its remarkable alluvial or Longoz forest, one of the most northerly of its kind in Europe. The reserve complex, totalling about 1500 ha, includes dunes, beach, estuary and small freshwater pools. This is an area of considerable botanical interest. Breeding birds include Semi-collared Flycatcher, Short-toed Treecreeper, Black, Grey-headed and Middle Spotted Woodpeckers, Goshawk, Lesser Spotted Eagle, Long-tailed Tit, Wood and Icterine Warblers. Diner and last night stay at at Branta Birding Lodge, near Durankulak.

Day 16 Durankulak - Varna Airport
Early in the morning transfer to the airport for your return flight.
This tour can be changed by canceling some days depending on participants' wishes. It is also possible to operate the tour along the route back, i.e. instead of heading to the north (Durankulak) after arriving at Varna airport; we can start first to the south and the first birding location to be Burgas Wetlands according to your flight schedule. Another possibility would be starting the tour from Sofia and departing from Sofia according to different options proposed by numerous air companies offering charter flights to Sofia.
Please, contact us for further details