Summer Dragonflies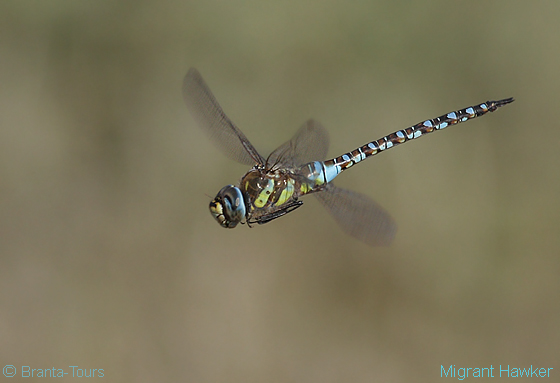 Day 7-8 Durankulak & Shabla Lakes
Transfer (85 miles) to Branta Birding Lodge overlooking Durankulak Lake and Black Sea, just 5 miles from the Romanian border, where we stay for the next two nights. We will explore the lakes Durankulak and Shabla, as well as the small wetlands around Cape Kaliakra.

The target species we are looking for include: Aeshna mixta (Migrant Hawker), Lestes macrostigma (Dark Spreadwing), Lestes barbarus (Migrant Spreadwing), Anax parthenope (Lesser Emperor), Sympecma fusca (Common Winter Damselfly).

Day 9 Bourgas and Kamchia River mouth
Finally we will drive back south, passing through various wetlands, including the Kamchia river basin. We will stop to search for Erythromma viridulum (Small Red-eyed Damselfly), Crocothemis erythraea (Scarlet Darter) and Sympetrum fonscolombii (Red-Veined Darter).
The wetlands to be visited on this tour are also among the richest bird sanctuaries in Bulgaria, so you will be able to enjoy the flocks of Dalmatian and White Pelicans, Pygmy Cormorant, all the European herons, bitterns and egrets, Ferruginous Duck, White-tailed Eagle, Spoonbill, Glossy Ibis, Whiskered, Black and White-winged Black Terns and many other amazing birds.

Day 10 Bourgas Airport
We take the short trip to the Burgas Airport for the return flight.

* Promotional statement:
We offer a 5 percent discount to anyone who books a place (and sends deposit) by 30 December.


Full tour description on demand: info@branta-tours.com