AZERBAIJAN: A NATURAL HISTORY TOUR

Organised by Branta-Tours
27.5 to 6.6.2011

Short report by Eric Burnier
A group of 11 Swiss naturalists guided by Pavel Simeonov (Branta-Tours) had the chance to pay a 10 days visit to the eastern part of Azerbaijan, from the Russian border to the Iranian border, from May 27th till June 6th 2011.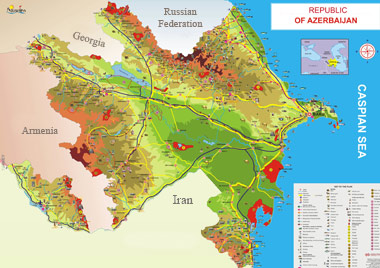 172 species of birds, 10 of mammals and 6 of reptiles and amphibiens could be observed.

Participants:

Eric BURNIER

Marie-Jeanne BURNIER-ZINGG

Francois GAUTIER

Monique GAUTIER-LIMAT

Vito TONI

Marie-Madeleine BRASSINE

Francois MOTTU

Delphine MOTTU-PITTORI

Raymond de PEYER

Eliane de PEYER-MICHEL

Jean-Rémy BERTHOUD

Pavel Simeonov & Kheyraddin Jabbarov - Tour leaders (Branta-Tours)
Description
May 27th, 2011:
After a first night in Baku, the group moved to the Shahdagh National Park, accommodated two nights in homestays in a charming mountain village nestled in the impressive Gusarchay Valley. Climbing at daybreak with horses on the slopes facing our base is the best possible introduction into the Greater Caucasus, surrounded by hundreds of singing Marsh Warblers (Acrocephalus palustris, Rousserolle verderolle) and a good number of Corn Crakes (C.crex, Râle des genêts) in the middle of white and blue anemones fields.
Later on a male Caucasian Black Grouse (Tetrao mlokosiewiczi, Tétras du Caucase) flew up out of a bush, whereas 10 Dagestan Turs (Capra cylindricornis, Bouquetins du Daghestan) could be spotted at a distance with telescopes.

Whitethroat (Sylvia communis, Fauvette grisette), Green Warbler (Phylloscopus nitidus, Pouillot du Caucase), Caucasian Chiffchaff (Phylloscopus lorenzii, Pouillot de Lorenz), Ring Ouzel (Turdus torquatus, Merle à plastron), Tree and Water Pipits (Anthus trivialis and spinoletta, Pipits des arbres & spioncelle), Common Rosefinch (Carpodacus erythrinus, Roselin cramoisi) among others, could be easily observed. Once the sun was high in the sky, 3 Golden Eagles (Aquila chrysaetos, Aigle royal) and several Griffon Vultures (Gyps fulvus, Vautour fauve) appeared soaring along the crests. Red-billed Chough (P.pyrrhocorax, Crave à bec rouge) and Red-fronted Serins (Serinus pusillus, Serin à front rouge) fluttered around the village, where Green Toads (Bufo viridis, Crapaud vert) went on singing all night.

On May 30th, we went down to the city Guba and then up again, to another scenic place, a black stone high mountain village at an altitude of 2´100m, in a circle of green slopes completely grazed by huge flocks of sheep. This is the typical biotope for a lot of mountain species, such as Alpine Swift(Apus melba, Martinet à ventre blanc), Rock Trush (Monticola saxatilis, Monticole de roche), Northern Wheatear (O.oenanthe, Traquet motteux), Sky and Horned Larks (Alauda arvensis, Alouette des champs & Eremophila alpestris, Alouette hausse-col) Red-billed and Alpine Choughs (P.pyrrhocorax, Crave à bec rouge & Pyrrhocorax graculus, Chocard à bec jaune), White-winged Snowfinch (Montifringilla nivalis, Niverolle des Alpes) in particular. But a lot of good surprises were the observation of a Weasel (Mustela nivalis, Belette), at very close distance, as well as of a pair of Güldenstädt´s Redstarts (Phoenicurus erythrogaster, Rougequeue de Güldenstädt), a pair of the elusive Great Rosefinch (Carpodacus rubicilla, Roselin tacheté), and the finding of a Caucasian Snowcock (Tetraogallus caucasicus, Tétraogalle du Caucase), singing in the overhanging rocks. The Alpine Accentor (Prunella collaris, Accenteur alpin) was present and two Lammergeiers (Gypaetus barbatus, Gypaète barbu) went again and again along the cliffs.
Close to our high-level base, a group of Asia Minor Twites (Carduelis flavirostris ssp brevirostris, Linotte à bec jaune) and Rock Sparrows (P.petronia, Moineau soulcie) were skiping in the grass, and a Little Owl (Athene noctua, Chouette chevêche) was heard at dusk .

On the way back, the Ortolan Bunting (Emberiza hortulana, Bruant ortolan) was singing in the meadows, whereas Black Woodpecker (Dryocopus martius, Pic noir) and Red-breasted Flycatcher (Ficedula parva, Gobemouche nain) were observed in the forest. A pair of Wallcreepers (Tichodroma muraria, Tichodrome échelette) were climbing in the gorge of the Gudujalcaj river.
Several stops along the Caspian coast gave us the opportunity to find a number of good species, such as Long-legged Buzzard (Buteo rufinus, Buse féroce), Lesser Kestrel (Falco naumanni, Faucon crécerellette), nesting Black-winged Stilts (H.himantopus, Echasse blanche), families of Kentish and Ringed Plovers (Charadrius alexandrinus, Gravelot à collier interrompu and Charadrius dubius, Petit Gravelot)... and a solitary Greater Sand Plover (Charadrius leschenaultii, Gravelot de Leschenault).

Large flocks of Rose-coloured Starlings (Sturnus roseus, Martin-roselin) were crossing the air and bathing in puddles among the cattle.

It is worth mentioning that in this area as well as all along the roads in Azerbaijan, beautiful birds are plenty, and among them Bee-eaters (Merops apiaster, Guêpier d´Europe), Rollers (Coracias garrulus, Rollier d´Europe), Hoopoes (Upupa epops, Huppe fasciée), Crested Larks (Galerida cristata, Cochevis huppé), Red-backed, Woodchat and Lesser Grey Shrikes (Lanius collurio, senator & minor, Pie-grièches écorcheur, à tête rousse & à poitrine rose), Golden Orioles (O.oriolus, Loriot d´Europe) and Black-headed Buntings(Emberiza melanocephala, Bruant mélanocéphale) in particular.




Leaving the main road, we headed inland, finding not only a pair of Isabelline Wheaters (Oenanthe isabellina, Traquet isabelle) but also both Pied and Finsch´s Wheaters (Oenanthe pleschanka & finschii, Traquet pie & Traquet de Finsch) in the spectacular white and pink Candy Cane Mountains, and another Wheatear with a strange black and white pattern, insect in the beak and alarming, probably a hybrid between Pied and Eastern Black-eared Wheatear (ssp. melanoleuca).



Short-toad Lark (Calandrella brachydactyla, Alouette calandrelle) was singing in the sky, Chukar (Alectoris chukar, Perdrix choukar) in the rocks, Rufous Bush Robin (Cercotrichas galactotes, Agrobate roux) and Eastern Olivaceous Warbler (Hippolais pallida, Hypolaïs pâle) were voicing their songs in the tamarisks along the wadi like Tugchay River and a Cuckoo (Cuculus canorus, Coucou gris) was chased by a furious Lesser Grey Shrike (Lanius minor, Pie-grièche à poitrine rose).




The following night was spent in the Altiaghaj National Park, with a concert of Tree and Lake Frogs (Hyla arborea, Rainette verte and Rana ridibunda, Grenouille rieuse), Nightingales (Luscinia megarhynchos, Rossignol philomèle), Wood Larks (Lulula arborea, Alouette lulu), Scops Owls (Otus scops, Hibou petit-duc) and Nightjars (Caprimulgus europaeus, Engoulevent d´Europe), which could be observed at very close range under the hotel´s lamps, resting on the handrails. A Barred Warbler (Sylvia nisoria, Fauvette épervière) was singing above an orchard in a village nearby and a Black Vulture (Aegypius monachus, Vautour moine) was soaring above Khizi.


After a visit to Gobustan producing Finsch´s and Black-eared Wheaters, Rock Nuthatch (Sitta neumayer, Sittelle de Neumayer) and many Northern rock Agamas (Agama caucasica, Agame du Caucase) looking-out at us from the rocks, we had two hours to spend in the Shirvan National Park before sunset, just enough time to admire the Goitered Gazelles (Gazella subgutturosa, Gazelle à goître) and to spot, among other passerines, the Ménétrie´s Warbler (Sylvia mystacea, Fauvette de Ménétries), Rufous Bush Robin (Cercotrichas galactotes, Agrobate roux) and both Calandra and Lesser Short-toad Larks (Melanocorypha calandra, Alouette calandre and Calandrella rufescens, Alouette pispolette). Black Francolins (F.francolinus, Francolin noir) were calling everywhere, one of them on the top of a mound.