Azerbaijan:
June 1st – 14th 2010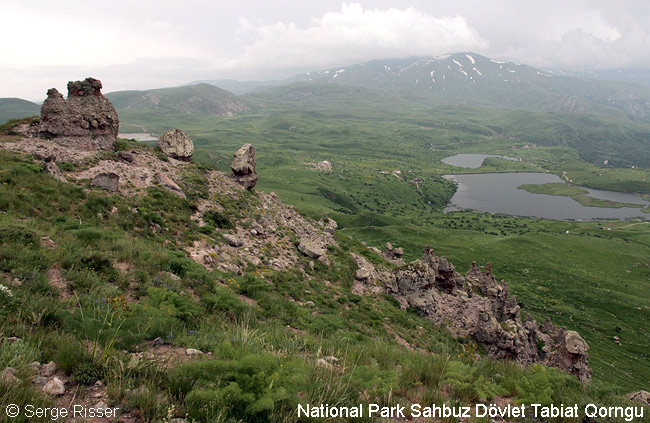 June 6th : Much to our pleasure, today´s plan was to drive up the Lesser Caucasus, to find mountain species, as well as fresh air. The place where we had planned to go was a national park, called Sahbuz Dövlet Tabiat Qorngu. The contrast with the plain a few kilometres from there was very strong: we were here in the subalpine and alpine zones. Most of the species were different from the ones we had seen so far: Red-backed Shrikes were everywhere in bushy areas and Common Rosefinches were calling from all over the place. Whinchats and Northern Wheatears were common in the grassy areas and a search in a rocky place allowed us to find the local subspecies of Twite, called Asia Minor Twite and Horned Lark. And while I was checking the mountain slopes high above us with the hope of finding a Caspian Snowcock, I found a Brown Bear patrolling the mountain top. A very unexpected but warmly welcomed addition to our trip list!

The small lake not far behind us was also holding Little Ringed Plover, Common Sandpipers and a pair of Ruddy Shelducks with chicks. Finally, as we were having lunch on the shore of the lake, we found an occupied nest of Rock Nuthatch and were delighted to see the parents regularly coming to feed the youngs.
After lunch, we drove further to another small lake in a very popular place for local people who were trying to escape the heat of the lowlands. The small lake produced Black-headed Wagtail, Sedge Warbler and Redshank, probably all breeding there. However, this was not enough and we continued on a small track up the mountain until we had to leave our car and continue on foot. Raptors were quite numerous here and Pavel, Serge and I recorded Griffon Vulture, Short-toed Eagle, Booted Eagle, Long-legged and Common Buzzards and Sparrowhawk. Small groups of Red-fronted Serin were also flying past. Finally, I briefly saw a small passerine in the low vegetation. It was very elusive and could only be seen in flight for half an hour until it landed on a rock and started singing in front of Serge and I: a Radde´s Accentor! When we came back at the car, we learnt from the rest of the group that they had also seen one, at a lower altitude.

As the storm was coming close, we quickly had to leave the area. However, despite the rain, we tried another stop in a rocky area with scattered bushes along the road, next to a river. After only a few minutes, Serge spotted a brilliant male White-throated Robin and in total, 2 males and 1 female were found in the area. Without going very far from the road, we encountered many more interesting species there: Griffon Vulture, Golden Eagle, a male Rock Thrush and a male Blue Rock Thrush feeding its young, a flock of 4 Red-fronted Serins, Eastern Black Redstarts, Crag Martins, Eastern Rock Nuthatches, Ortolan and Rock Buntings and our first Lesser Whitethroat. We finally decided that this was enough for the day and we came back to Arzu´s place for dinner.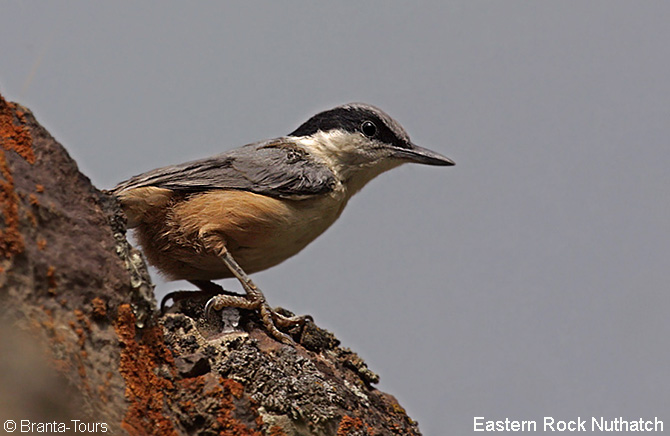 June 7th, 2010: In order to be able to hear and hopefully see the See-see Partridge, we had another early morning start to be on time to meet the guard. We drove through the Mountain village and then along a river already partly dry. The species on the way where the same as 2 days earlier in the same area, so we managed to drive almost without any stop along the way and made it on time. The guard showed us a rocky slope over the river that we had been following and told us that the partridges where using this place when coming down to the river to drink. But despite a careful scrutiny of the slopes we could only find Chukar. Was it already too late in the day? Or was that place not used all year long? The place was still worth a long stop, especially for Wheatears and we found at least 7 Black-eared (1 nest), 1 Finsch´s and one family of Persian. Two Upcher´s Warblers were also singing despite the almost total absence of bushes and both Rock and Eastern Rock Nuthatches were breaking the silence of the area. A dark morph Long-legged Buzzard, a Common Buzzard and 2 Griffon Vultures flew over the place.


We moved on to our second stop, which appeared much better than the first one for the species: it was a narrow gorge, with quite steep low cliffs on both sides and obviously away from almost any human activity. We parked at the beginning of the cliff and after less than 100 meters walking heard the characteristic song of the See-see Partridge. It was very short, stopped as soon as we appeared in the gorge and only Arzu and I had heard it, but there was no doubt! Then, suddenly, a small partridge flew away leaving us no time to take our binoculars…it wasn´t going to be easy. But after one hour of careful search, two males showed up on large boulders below the cliffs and started singing! Other species in this place were Pale Rock Sparrows, Rock Sparrows, White-throated Robin (1 family), Persian Wheatear (2 pairs), Black-headed and Ortolan Bunting and Rock Nuthatch. Above our heads, at least 2 Griffon Vultures and a Golden Eagle were patrolling the area.

We took the trail back to the plains, not before having shared the lunch with the guard under the shadow of the only trees in sight. On the way back, two pairs of Black-bellied Sandgrouses took flight in front of us. It was only early afternoon on our last birding day in Nakhchivan and despite the heat and the burning sun, we decided to try our chance in another rocky area, where Arzu had previously seen Trumpeter Finch. We had hoped to find four species of finches and had so far only managed to find the one that we all knew before: the Common Rosefinch. So, we headed to Neilan Dag to try our luck. The place, a reddish cliff in a semi-desertic area was truly fantastic, but with 40°C under shadow, bird activity was very low. Two pairs of Ravens, a Short-toed Eagle, an Egyptian Vulture and the now usual Rock Nuthatches, Pale Rock Sparrows, Finsch´s and Persian Wheatears had however been seen, when I suddenly saw Pavel waving it´s arms about 500 meters from where I was. When I finally arrived, this was only to see the picture of a bright Trumpeter Finch on his camera. The bird was gone. I decided to wait at that place, until the bird would reappear, which quickly happened. It was not a single bird that arrived, but a small group of 5. And they were not Trumpeters, but a family of Mongolian Finches! And a few minutes later, a family of Trumpeters joined them! In less than five minutes, our finches list had made a decisive step forward.


These were our last observations in Nakhchivan. Except for the Crimson-winged Finch, we had managed to find all our target species, including two that had apparently never been officially recorded alive from the area: See-see Partridge and Mongolian Finch. There is however little doubt that these species must be quite common there given the size of the potential habitats. And there is no doubt that other species are still hiding there, in the vast wild areas of Nakhchivan. In particular, it would have been very interesting to be allowed to get close to the large river drawing the border with Iran. But this is the border with Iran…

June 8th, 2010 : On this last day in Nakhchivan, we left our binoculars in the bags and switched back to civilian duties: presentation at the academy of science, guided tour of the city and its historic monuments, and finally administrative controls at the airport. In the afternoon, we were back in Baku, where a bit of fresh air was waiting for us at our datcha.



June 9th, 2010: Before heading to the Caucasus for the second part of the trip, we had planned a day out not far from Baku to visit Shirvan National Park. This park covers thousands of square kilometres of semi-desert and steppe near the Caspian Sea and holds a strong population of Goitered Gazelle. It was in fact created to save this species from getting extinct in the country and does a great job for this. It also holds bird species that we were hoping to see. And, for once, finding them was not a hard task. We entered the park and stopped for breakfast just after the entry under the scrutiny of Lesser Kestrels (they were just everywhere in the park). Among them, a pair of Red-footed Falcons may well have been breeders given the late time in season for migrants. But we couldn´t prove it. Further away, a small passerine was singing on a bush. It was our first target of the day: Ménétries´s Warbler! Back on the car and only a few hundred meters later, two Black Francolins crossed the trail in front of us. This was target species number 2! Fifteen minutes later, after having checked several Bee-eaters, we found a Blue-cheeked Bee-eater: Target species number 3!



Goitered Gazelles were quite numerous and we saw them all along the visit. We then reached a small lake in the middle of the park, completely surrounded by reeds. We used the boardwalk to reach an observatory offering a good view over the lake. Twenty Great crested Grebes, two Red-crested Pochards and over twenty Whiskered Terns were in sight. Reed Warbler and Great Reed Warblers were calling in the reeds and two Penduline Tit were also found. After a couple of minutes, we managed to find our fourth target species: an adult and a young of Grey-headed Purple Swamphen (P. porphyrio caspius).

We then got somewhat lost in the park while trying to find a lagoon where Pavel had seen a Greater Sand Plover the year before. We first hit the shore near construction works in a bushy area where a colony of hundreds of Spanish Sparrow was making a terrible noise. The only other birds in the area were Lesser Grey Shrikes. Then, we encountered some floodings, where Shelducks, Ruddy Shelducks, Black-winged Stilt and Kentish Plovers were apparently breeding. But we finally made it to the lagoon where our car suddenly decided to leave us on our own, at about 1h drive from the closest human settlement… We took some time to look at the 50 Caspian Gulls and 30 Gull-billed Terns resting there, but couldn´t find any other shorebird than a Redshank, a Ringed Plover, a few Kentish Plovers and a flock of 13 Greenshanks flying south. The car finally only had a minor problem, so we managed to get away from the place, but couldn´t stop on the way back to look at all these larks that were taking off in front of us (mostly Calandra and Lesser Short-toed).

Our next stop did not target birds specifically. We went to a place called Gobustanto have a look at the famous petroglyphs. Very interesting to see how well preserved all these are, even after having undergone several earthquakes! From there, we had a great view over the Caspian basin. Few bird species where present there, but a Chukar was calling and Rock Nuthatch were noisy as usual. Finally, we also found a male Pied Wheatear.


A few kilometres from there, we saw another great curiosity of this place: the mud volcanoes. In this lunar place where only the noise of mud bubbles exploding could be heard, my eyes got caught by a distant lark. As I was approaching what turned to be a Lesser Short-toed Lark, I saw a bird running on my left: a female Greater Sand Plover! I quickly called the rest of the group, and a second bird showed up. This time a male. Then, I saw them, two tiny chicks probably just 2-3 days old. They were running away from us while the parents were trying to lead us in another direction. We didn´t stay long there, in order to avoid too much of a disturbance and took the road back to Baku.

June 10th: Another transition day, this time to reach a beautiful mountain village (elevation: 2000 m) in the Greater Caucasus, not far from the Daghestan border. As we progressed to the north and reached higher altitudes, the climate became cooler and the vegetation turned green. Despite a few unexpected stops due to mechanical incidents, we made it safely to our high-level base, a small village hidden at the end of a dirt road near the top of a valley. The impressive construction works next to our village indicating a future ski resort where sounding like bad news for the future of the area, but until now, the place is still well preserved.


We arrived in the evening at the house of our new host, and were, as usual, received with a lot of kindness and enthusiasm. Our local escort is a keen alpinist, used to guiding foreign alpinists in his mountains. So, we had no doubt that we could trust him in our excursions in the area. A first birding walk around the village and the adjacent meadows already revealed the presence of Eastern Black Redstarts, Red-fronted Serins, Snowfinches (1 pair), Common Rosefinches, Whinchats, Marsh Warblers and Corn Crakes among others. But it was already time for gathering for dinner and planning for the next days.