Winter Birding in Azerbaijan - 2013

Dates: 1 to 10 March 2013 (10 days, 9 nights)

Starting point: Baku Airport

Tour Guides: Pavel Simeonov and experienced local escorts

Group size: Limited to 10 participants + Tour leader

Budget cost is EUR 1670 per person (not including visa and flights to and from Baku airport).

Minimum group size for tour to go ahead: 4 pax Trip deposit of EUR 200 is required at least two months before departure. * We will be pleased to send you a bird checklist and day-by-day programme shortly after receiving the required deposit.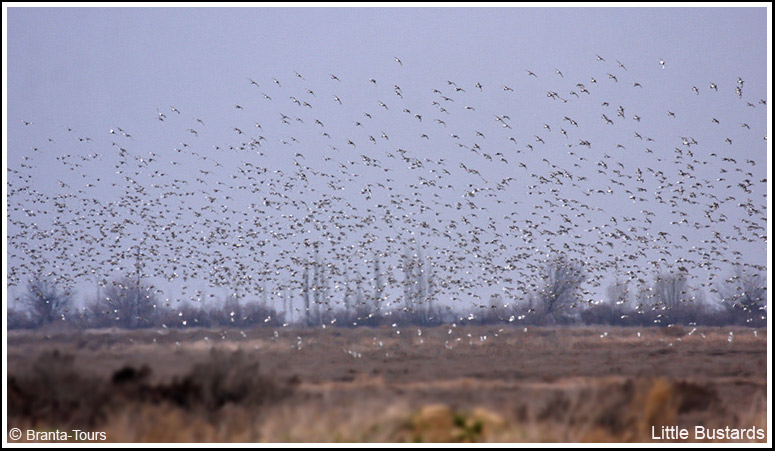 Branta-Tours is now offering an amazing winter trip to Azerbaijan. Witness the spectacle of 100.000 overwintering Little Bustards accross the huge azeri steppe that also hosts a wide range of raptors and rare passerines, among them Imperial Eagle, Rough-legged and Long-legged Buzzard and, with luck, White-winged Lark. Early March finds the first migrating White-tailed Plovers arriving in groups of ten or twelve to as many as fifty. Pallid Harrier also features in the tour together with many appetissing soaring birds, including the first flocks of Black Stork. These are always a thrilling sight as they pass quite low over the steppe. During the trip you will also have the opportunity to explore a diversity of other remarkable habitats including en expanse of coastal wetlands and salty lagoons, fresh water lakes and rivers, semi-desertic foothills and truly impressive mountain settings. The tour will also concentrate on such mouthwatering resident birds like Great Rosefinch, Güldenstadt´s Redstardt, Great Black-headed Gull, Wallcreeper, Black Francolin and Moustached Warbler. An excursion to the Shahdagh National Park by the scenic Gusarchay Valley (if the weather permits) features unforgetable views of Caucasian Snowcock and Bearded Vulture, with an outstanding possibility of Caucasian Black Grouse.

The most challenging part of the trip will certainly be an attempt to find the very rare Caspian Tit. The only place in the Western Palearctic to find this elusive bird is in the vicinity of Hircan National Park in the south of the country. To experience such delightful venture we will spend two days in the heart of Talysh Mountains where we also look for wintering Pine Bunting, Radde's Accentor and Crimson-winged Finch.

During the trip we expect to find the following wintering highlights, providing us with rare photographic opportunities: '

Pallas's Gull, White-headed Duck, Marbled Teal, Dalmatian Pelican, Greater Flamingo, Lesser White-fronted Goose, Red-breasted Goose, Ruddy Shelduck, Little Bustard, Black Francolin, White-tailed Lapwing, Greater Sand Plover, Lammergeier, Black Vulture, Eastern Imperial, Greater Spotted, White-tailed and Steppe Eagles, Pallid Harrier, Long-legged and Rough-legged Buzzards, Grey-headed Gallinule, Laughing Dove, Finsch's and Isabeline Wheatears, Guldenstadts Redstart, Calandra, White-winged, Shore and Lesser Short-toed Larks, Caspian Tit, Crimson-winged and Great Rosefinches, Red-fronted Serin, Twite, Moustached Warbler, Rock and Pine Buntings by way of a small sample (over 170 species expected).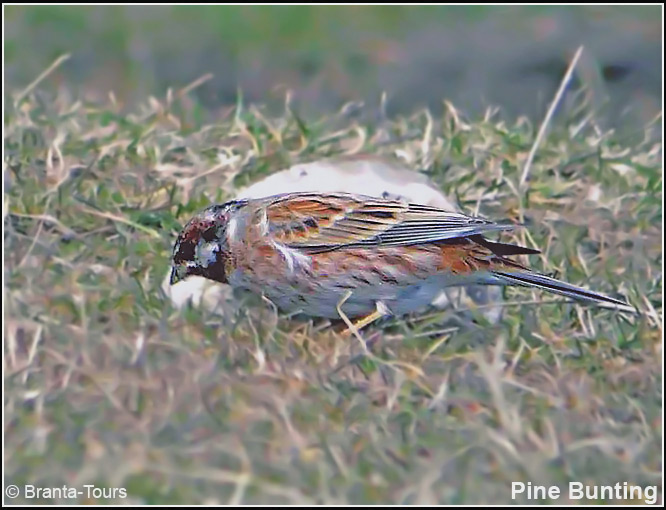 The mild Azeri winters and the huge variety of different habitats attract many eastern specialities, which come from December to March in large numbers. This is the wintering period for many Geese, Ducks, Pelicans, Cormorants and Flamingos, which can be found mainly along the Caspian Sea coast.
The wildlife around is represented by several notable species of mammals that we also look for, including Goitered gazelle, East Caucasian Tur, Transcaucasian Mouflon, Caspian Seal, Marbled Polecat, Jungle cats and, with good luck, we may just see a Persian Leopard.

Wintering waterfowl include tens of thousands of Marbled Teals, White-headed Ducks, Greater and Lesser White-fronted Geese, Divers, and Grebes with possibility of the stunning and the globally threatened Red-breasted Geese, concentrating mainly on the coastal lagoons and the inland freshwater wetlands and flooded farmer's fields.
Gulls abound along the coast with hundreds of Common, Little, Caspian, Armenian and Great Black-headed Gulls and then there are the waders, which include White-tailed and Great Sand Plovers, with an outstanding possibility of Terek Sandpiper and there are a host of small passerines including Pine Buntings, flocks of Red-fronted Serins, hundreds of Pipits, mainly Medow and Red-throated, and larks including Sky, Lesser Short-toed and Calandra. There is also an excellent possibility of White-winged Lark and, with luck, a Great Rosefinch, Radde's Accentor, and Güldenstadt´s Redstart which can also appear in the lower river valleys, being forced to move from their snowy alpine zones.
Raptor specialities include Imperial, White-tailed, Greater Spotted and Steppe Eagles, Long-legged and Rough-legged Buzzards, Saker Falcon, Merlin and Pallid Harrier. Huge flocks of Little Bustards with up to 100.000 individuals also feature in the semi-desert and steppe areas.

* Promotional statement:
We offer a 5 percent discount to anyone who books a place (and sends a deposit) by 30 November 2011.

Contact Pavel Simeonov at info@branta-tours.com

General Information
Azerbaijan, located on the western edge of the Caspian Sea, has a valuable geographical position sitting at the crossroad between East and West. (Asia and Europe) Surrounding it are four other countries, namely; Russian Federation, Georgia, Armenia and Iran.
Azerbaijan, formerly part of the USSR, declared its independence in 1991 as the Soviet Union began to break up and is now a democratic republic that favours closer ties with Western Europe.
Landforms:
Azerbaijan is a mountainous country. Three physical features dominate Azerbaijan: the Caspian Sea, whose shoreline forms a natural boundary to the east; the Greater Caucasus mountain range to the north; and the extensive flatlands at the country's center. Many snow-capped peaks exceed 12,000 ft. (3,700m), with Baza-Dyuzi the highest point, at 14,698 ft. (4,480m).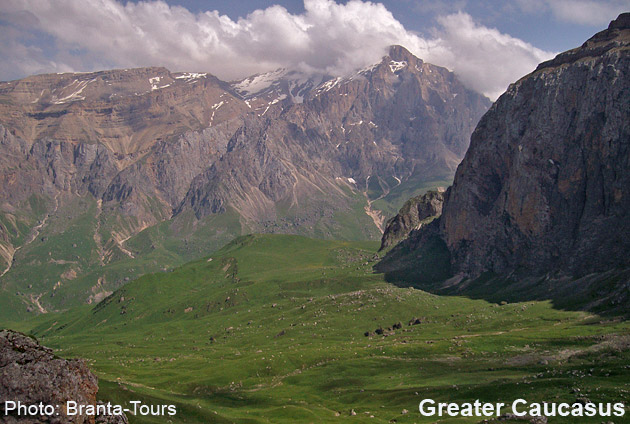 Climate:
The climate varies from subtropical and dry in central and eastern Azerbaijan to subtropical and humid in the southeast, temperate along the shores of the Caspian Sea, and cold at the higher mountain elevations. Baku, on the Caspian, enjoys mild weather, averaging 4 C in January and 25 C in July.
Air Travel:
This is entirely optional leaving you completely free to make personally your flight reservations and to pursue your travel arrangements to Baku with an airline company or your own travel agent. Turkish Airlines offer cheapest flights to Baku available at: http://www.thy.com

For more information please contact us: info@branta-tours.com