Highlands & Orkney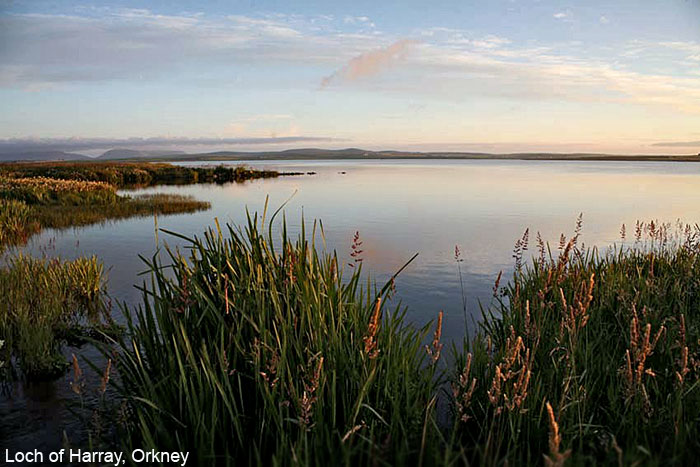 Red Grouse, Scottish Crossbill, four species of Diver ((including an outside possibility of White-billed Diver), Velvet Scoter and Long-tailed Duck, Great & Arctic Skuas, Slavonian Grebe, Storm Petrels, Manx & Sooty Shearwaters plus four species of auks, Shag, Goosander, Red-breasted Merganser, Puffins, Common & Black Guillemots, Little Auk, Razorbill, Fulmar, Little Gull, Kittiwake & Gannet, Eider, Whooper Swan, Bar-tailed Godwit, Knot, Dunlin, Sanderling, Purple Sandpiper, Turnstone, Arctic & Sandwich Terns, Hen Harrier, Red Kite, Peregrine, Merlin, Golden and Sea Eagles, Barn, Short-eared and Tawny Owls, Capercaillie, Redwing, Crested Tit, Rock Pipit, Lesser Redpolls, Twite and many other Scottish highlights including numerous mammals of interest.
Dates:
September 1 - 7 /Sat - Fri/ (6 nights, 7 days)



Based: Orkney - 3 nights, Farr (upper Loch Ness-side) - 3 nights

Group Size: 6 to 10 people

Starting Point: Inverness

Walking: Easy

Tour Leaders: Pavel Simeonov & Experienced Local Guide
Price:
£ 799 (not including flights)
Price includes:
six nights dinner, b&b in twin rooms en suite; packed lunches days 1-7; all excursions (including ferries) plus transfers to and from transport terminals; guidance.
Costs are based on 8 participants
6 pax = £849
7 pax = £833
8+pax = £799
Description:
The
Orkney
and
Highlands
combination during early September features the full range of resident birds, plus the first influxes of migrants. The numbers of many birds, for example raptor and grouse species, are swelled by the progeny of the breeding season.
Orkney waters still contain a large array of seabirds, including Storm Petrels, Fulmars, Gannets, Great and Arctic Skuas, Manx and Sooty Shearwaters plus four species of auks. This is also an exceptionally good time for sightings of cetaceans, especially Minke Whales and White-beaked Dolphins.
The island scene is one of fertile pastures on which thousands of post-breeding Curlews, Lapwings and Oystercatchers forage, while Hen Harriers and Short-eared Owls hunt the endemic Orkney Vole - which we see on a private nature reserve. The RSPB owns more bird reserves on Orkney than anywhere else in the UK, which testifies to the importance of this exceptional and charming island system. Orkney also hosts the greatest assemblage of historic sites north of the Mediterranean.
From our base above the Great Glen several top Highland birds add to our list: Black and Red-throated Divers, Slavonian Grebe, Osprey, Golden Eagle, Peregrine, Capercaillie, Red and Black Grouse, Crested Tit and Scottish Crossbill etc. A top highlight will be Pine Marten-watching, at a baited site to which we have exclusive access. Blonde-tailed Red Squirrels also commonly visit.
Although primarily a birdwatching event, mammals including deer (
Red Deer
are beginning to rut),
Common
and
Grey Seals, Otters
and
Blue Hares
may be seen.
In the Highlands moorland is bathed in the breathtaking colour of heather at the peak of flowering. Our local co-guide of the tour, has led wildlife-orientated events in the Scottish Highlands since 1974 and has lived in Orkney for almost 20 years. Accordingly he can justifiably claim to have an exceptional familiarity with local wildlife and wildlife locations.
The two hotels used are in superb settings. Our Orkney base overlooks Loch of Harray with its large population of swans and other waterfowl, while in the uplands above Loch Ness we are located at the fringe of heather moorland in the Monadhliath (pronounced Mon-a-leeah) Mountain foothills - haunt of Golden Eagles and Red Grouse.
The exceptional content of this event cannot be overstated, it is absolutely not to be missed, so be sure to join us on this unforgettable adventure.
Itinerary
Day 1 Sat...9.15 Rendezvous, Inverness:
From Inverness we cross to the Black Isle (peninsula), where an excellent variety of wildlife primes the tour. Red Kites and Common Buzzards appear along wooded ridges while, at sea level, the first seabirds include Shags, Cormorants, Razorbills and three tern species (Common, Arctic and Sandwich Terns); Rock Pipits and Turnstones show along the tideline. At Channonry Point the first mammals are encountered: Common and Grey Seals, and Bottlenose Dolphins.
Continuing north we visit the seaboard village of Shandwick overlooking the Moray Firth, a good location for waders - which include Oystercatchers, Bar-tailed Godwits, Ringed Plovers, Redshanks and Curlews. Waterfowl on the scene feature Red-throated Divers, Eiders, Common Scoters and Red-breasted Mergansers, while stiff-winged Fulmars and diving Gannets add to the seabird tally.
On reaching Loch Fleet and the Dornoch Firth we may reliably expect to see Ospreys, Greenshanks and Black-throated Divers, with possibility of Little Gulls (rare in Scotland).


Travel through the sparsely populated country of the north we visit charming harbours where the first Black Guillemots are spotted and Kittiwakes gather. Finally arriving at Scrabster on the north Scottish coast we make the early evening sea-crossing to Stromness in Orkney (90 mins.) on MV Hamnavoe - a large, modern vessel on which we enjoy an excellent dinner in the ship´s restaurant. During on-deck birdwatching we encounter the full array of seabirds - Great and Arctic Skuas, Manx and Sooty Shearwaters, Storm Petrels, Puffins and Common Guillemots - in addition to species already seen - with high likelihood of Harbour Porpoises, White-beaked Dolphins and maybe a Minke Whale.

Arriving in Stromness at 20:30 a 20 minute journey delivers us to our base for the next three nights at Merkister Hotel overlooking Loch of Harray - the perfect location for a wildlife tour.
Days 2 & 3 Sun & Mon: Our introduction to Orkney birds begins with an excursion around the West Mainland in search of raptors: Merlin, Hen Harrier and Short-eared Owl, Orkney being the principal stronghold in the UK for the latter two species. On protruding headlands we meet with Rock Doves, Wheatears and Twites, with every possibility of a patrolling Peregrine. On meadows and recently harvested cereal fields you will be astounded at the volume of post-breeding Oystercatchers, Curlews, Lapwings, Golden Plovers and Starlings, among which Whimbrels, Ruffs and possibility of a rarity or two occur.
Scotland´s only endemic mammal - the Orkney Vole - is seen on a private nature reserve to which we have exclusive access. Orkney also hosts a large population of Brown Hares.
The East Mainland and attached islands contrast with the west, being the area - subject to easterly winds - that receives the greatest number of arriving late-summer migrants. If weather patterns are favourable there may be large falls of warblers, flycatchers, redstarts and other small passerines. On Scapa Flow the first Great Northern Divers are usually recorded, Slavonian Grebes and Velvet Scoters also being likely. Previous tours at this time of year have also produced White-billed Diver, Rose-coloured Starling and Little Auk plus other rarities.


Days 4 - 6 Tue - Thu:
Returning to
Scrabster
on the late-morning boat there is a second opportunity to catch up with seabirds. We travel to our next base in
Strathnairn
(10 miles from Inverness) via the flow country of Caithness, stopping at
Forsinard
(RSPB reserve).
Dippers
and
Grey Wagtails
add to the checklist, and the belling calls of
Red Deer
stags during the rut are heard.
The uplands above Loch Ness are explored for
Red
and
Black Grouse
, also
Golden Eagle
. A day in the
Findhorn Valley
and on
Speyside
targets
Capercaillie, Crested Tits, Scottish Crossbills
and
Blue Hares
. We visit the reserve owned by our co tour-leader where a multitude of birds visiting a feed site include
Great Spotted Woodpeckers, Siskins, Lesser Redpolls, Bullfinches
plus assorted tits.
Blonde-tailed Red Squirrels
are also regular visitors. And, sticking to the mammal theme, a late evening visit produces close-range sightings of
Pine Martens
.
Day 7 Sat: This final day is set aside to chase up birds we may have struggled to find. Glen Affric or Strathconnon are likely options, being respectively good for pinewood species and Golden Eagles. The tour concludes late afternoon, with transfers provided to transport terminals or accommodation in Inverness.