Estonia - early spring
There are many good reasons for a visit to Estonia during early spring; The experience of viewing grouses, including Capercaillie, owls and woodpeckers ... and the stunning Steller´s Eider ... is absolutely not to be missed!
Principal highlights:

> Hundreds of Steller´s Eiders

> White-backed, Three-toed, Grey-headed and Black Woodpeckers drumming in the forest

> Ural, Pygmy, Tengmalm´s and Eagle Owls

> Lekking Black Grouse and high likelihood of Capercaillie

> Ruffs if weather is favourable

To ensure viewing of Steller´s Eider (the most endangered seaduck in Europe) we stay two nights on Saaremaa - largest island in Estonia - the surrounding waters of which are their main wintering grounds in the Baltic Sea and, unquestionably, the best place in Europe to watch this high priority wildfowl species.


The first small passerine migrants are returning, such as Thrush Nightingale, Bluethroat, Savi´s Warbler, Penduline Tit and Citrine Wagtail.

Mammals: European Beaver, Eurasian Elk (Moose), Roe Deer, Red Deer, Wild Boar, Raccoon Dog, Red Fox and possibly Grey Seal, also tracks of Wolf & Lynx with outside possibility of sightings.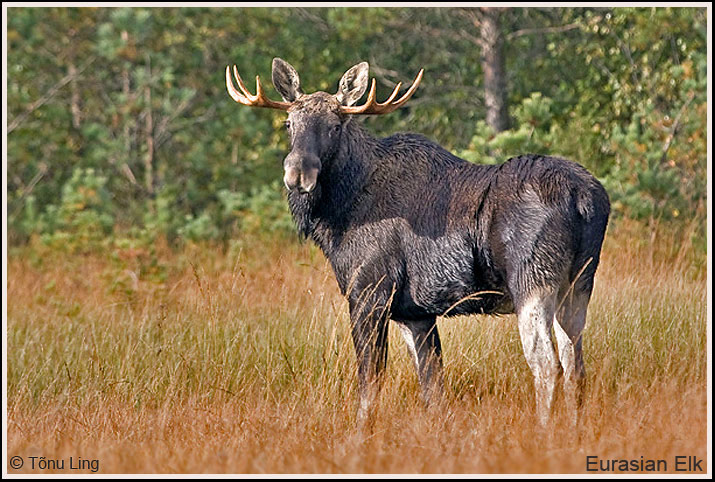 Price per persoon: 1249 Euros based on 9+ participants

1295 Euros based on 8 participants

1346 Euros based on 7 Participants

1396 Euros based on 6 participants

Transport to and from Estonia is not included.

Minimum Group size 6, maximum 16.

Dates: 9-16 March 2020

Day 1 - Arrival

Having arrived in the picturesque capital of Estonia you dont have to worry about anything. We immediately travel from the airport to the north-west coastal region of the country where we stay for one night. Superb birdwatching commences from the outset. If time permits we shall stop along the way to enjoy introductory birding. In the evening we listen for the night sounds of the taiga forest near our hotel in Roosta, and may be lucky enough to hear the calls of Eagle, Pygmy and Ural Owls.
Day 2 - Variku, Põõsaspea and Nõva Forest

Early morning we continue our journey to Silma reserve, which is a complex of coastal meadows, lagoons and reedbeds containing lots of wildfowl, Slavonian and Red-necked Grebes, Cranes, Penduline and Bearded Tits. Nõva forest hosts Capercaille, Hazel Grouse and Nightjar.
After lunch we continue birdwatching in Põõsaspea - a small north-stretching spit deserving mention as one of the best place for observing Arctic waterfowl migration. The first week of April is a little early for significant passerine movements, but we shall see sea-ducks and geese occurring along the Poosaspea coast. This outstanding location attracts even the most experienced enthusiasts of rare species, who we are likely to meet and exchange information with. First and foremost the location is important for watching Arctic waterfowl migration. Divers (four species including White-billed), geese (Bean, White-fronted, Barnacle and Brent Geese), diving ducks (Common and Velvet Scoters, Long-tailed Ducks, Smew etc.) and auks (Black Guillemot and Razorbill). In the evening we transfer by ferry to Saaremaa.



Day 3 - Saaremaa

Saaremaa is our base for two nights, from which we explore the headlands and bays of the island´s west coast. Before breakfast we visit the north-west of Saaremaa. The area is a site of wintering and migrating sea ducks, our main target being Steller´s Eider. Incidental other species include Long-tailed Duck and Common Scoter, also Red-throated and Black-throated Divers, plus a constant overhead passage of Siskins, White Wagtails, Bramblings and Chaffinches. We should also see Red Deer and Wild Boar. In Saaremaa there are several good areas for viewing Ruffs. Before dark we visit Sõrve peninsula, which extends well out into the sea and receives great numbers of birds during migration. The peninsula coast directs waterbird migration in spring and autumn, and many raptors and passerines cross the sea here. A bird station located on the peninsula has legendary status. Sõrve peninsula is a prime location for watching skuas, waders and diving ducks. In Sõrve chances to observe many rare bird species are excellent. For example Sparrowhawk, buzzards, harriers, falcons, plus Lesser Spotted and other Eagles. It is a memorable experience to follow the passage of hundreds of thousands of Chaffinches, Bramblings and Siskins from an observation point at an old Soviet fortification.
Day 4 - Saaremaa Steller´s Eider remain on the agenda today, as we make our way to the north-west of Saaremaa Island to a sheltered bay near Cape Undva, where one of the greatest concentrations in Europe occurs. Numbers may vary from a few hundred to almost a thousand. After an appetising lunch we continue in Viidumäe Nature Reserve to search for owls.

Viidumäe Nature Reserve is located in the highest and oldest part of the Island. In its forests, marshes and meadows a wealth of notable plants have been recorded. Approximately 700 vascular plant species occur, including 59 of rarity status. The nature reserve, established over 50 years ago, has been thoroughly researched and representatives of many different biological groups have been catalogued, forming a really impressive list.
Several different types of forests are found: swamp, heath-pine with tall trees, alder and nemoral forests. The largest four-legged forest inhabitants are Red and Roe Deer, Eurasian Elk and Wild Boar.
Pine Marten is a typical small mammalian forest predator, and there are several colonies of Badgers and Foxes.
Many passeriformes nest in Viidummäe forests: several different woodpeckers (Black, Great and Lesser Spotted being the most common), owls including Tengmalm´s, Tawny and Pygmy, alongside Nightjar and Stock Dove. Ravens and two White-tailed Eagle pairs are resident and a Black Stork pair has also established in the area. During the evening we return to the mainland.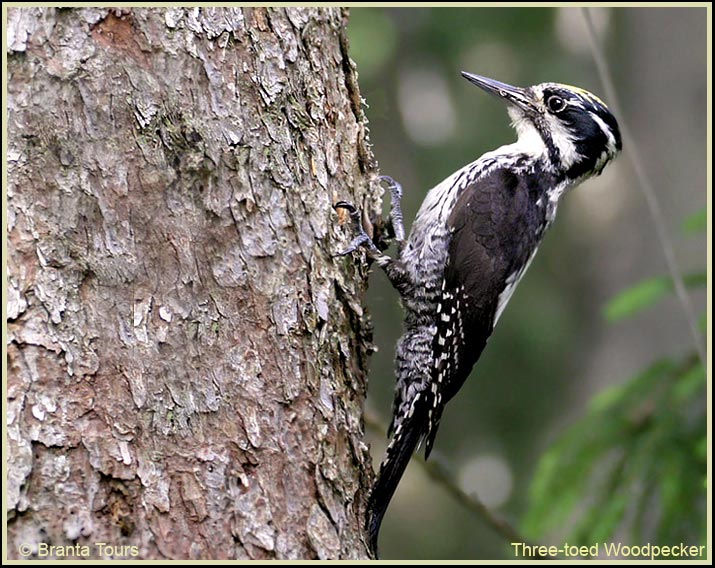 Day 5 - Pärnu-Häädemeeste

In the morning we´ll check the forests of Soometsa reserve in the Häädemeeste area, in search of Capercaille, Hazel and Black Grouses. During each excursion into the forest we have opportunity to encounter Lynx and Wolf tracks. After lunch we´ll head for Nigula Nature Reserve - an intriguing bog landscape harbouring lots of target birds. Later in the day we´ll drive to Matsalu, visiting wet fields at Audru polder (near Pärnu). In Soomaa we aalso hope to meet with the European Beaver.
Pärnu-Häädemeeste region accommodates a diverse and rich birdlife. We´ll be able to see and/or hear almost all European woodpecker species (including Black, Grey-headed, White-backed and Three-toed). Although often difficult to find elsewhere, White-backed Woodpecker is common all over Estonia.