Azerbaijan:
June 1st - 11th 2009
This was an exploratory trip organised by Branta-Tours Birdwatching Company and with the main goal of accessing the feasibility of running guide ornithological trips to the country. Our aim was to visit several of the reserves and national parks as well as looking for any other good looking areas of habitat and getting a feel for the species on offer as well as their ease of accessibility.
Our local guide and driver who's in depth of local knowledge and string of local contacts throughout the country were invaluable.
Participants:
Dave Bowes - England
Patrick de Harenne - Belgium
Tour Leader: Pavel Simeonov (Branta-Tours)
Total distance: 1600 Km
Species recorded: 192




Getting there

We all made our way to Istanbul independently, where we met up for onward flight again with Turkish Airlines to Baku. I travelled with Turkish Airlines whose planes and flight crew were excellent, both on my outward and homeward journey.

Description

June 1st: Arrived Baku at 04:15 having travelled overnight from Stansted via Istanbul with Turkish Airlines. On arrival your passport was checked. Then followed a wait in the visa line, after this collecting luggage and customs was a doddle and I eventually arrive outside the airport to meet up with Patrick, Pavel and our local escort at 07:30. Our first pleasant sight was the Lesser Kestrels that were nesting in the terminal building roof, with at least five birds present. A Gull-billed Tern also flew low over the car park as we loaded the car.
After a short trip of about 30 mins we were sat round the table enjoying a fine meal and our first introduction to Azeri Tea called "Chi". We even managed to see Laughing Dove from the window. After breakfast we eventually set of towards the Greater Caucasus at 09:20 with plans to stop at a few birding locations en-route via road E19.
Our first main stop was at an area of wet scrub/meadow on the road towards Yasma wetlands, where amazingly we were 27 meters below sea level; here we were rewarded with a good selection of warblers, including Upcher´s and the first of several very showy Rufous-bush Chats. Yasma Lake itself was a little disappointing with very few birds the best of which were undoubtedly a fine White-winged Black Tern and a Caspian Tern that flew north along the coast. The rest of the trip was through some pleasant scenery consisting of open plain and grassy meadows as we neared the foothills of the Greater Caucasus. The main highlights were the only Montague´s Harrier and Red-footed Falcon of the trip, with Red-backed Shrikes and Lesser Kestrels very much in evidence.




We eventually neared our high-level base in the midst of a rain shower when a small flock of 14 birds flew up onto a fence at the side of the road turned out to be Red-fronted Serins, a tick for all and a definite lift to flagging spirits after a long drive. We arrived at our lodgings in a charming mountain village at 19:30 and were greeted by our host and local escort Melvut and a fellow Yorkshireman, Paul Bunting a BP engineer with a love of walking in the mountains who spent his time off here. Paul proved to be a real asset as his intimate knowledge of the paths, meadows and passes really helped us get the most from our visit to this magic place. Low cloud and rain curtailed our birding activity & after supper and the passing round of the Vodka it was to bed for some much needed sleep.
June 2nd : After a good nights sleep we were up and out by 07:00 to be greeted by the most fantastic morning and scenery, the previous evenings low cloud and rain had given way to a bright cloudless morning and all around us were vibrant green meadows and the snow covered peaks of the Caucasus. In the rain and cloud of the previous evening none of this had been visible and it was something of an assault on our senses first thing in the morning. A pre-breakfast amble provided good views of Chough, Common Rosefinch (which were very numerous) a couple of Peregrines overhead and several more Red-fronted Serins which favoured the short grassy meadows around the village. After breakfast we split up and went our own ways in an effort to explore as much ground as possible. At 1700 meters our base was situated on a small plateau nestled above the river Koosarchal but overshadowed by the mountains of the Caucassus.
I decided to explore the valley to the west of the village which rose to an elevation of about 1850 meters with Patrick whilst Pavel went east. Nothing too spectacular revealed itself but the lush upland meadows did provide home for several Marsh Warblers, Quail and Grey Partridge. Whilst a pair of Lammergeyer and nine Griffon Vultures patrolled overhead.
We returned to our lodgings for lunch and "Chi" and after writing up of notes and a short siesta we went to explore the birch scrub on the edge of the gorge we had noticed the previous day. This was a wonderful area and the only place we heard and saw Caucasian Chiffchaff with at least four birds been noted singing. Green Warbler was by far the commonest warbler with 15 birds been logged singing. We returned to the lodgings for supper and to plan our next day's assault on the higher ground above the village where we hoped to pick up Caucasian Snowcock, Güldenstädt´s Redstart and Great Rosefinch. Our escort suggested that we used horses to get up to the high ground, which suited Pavel and Patrick but I was mightily relieved when Paul said that he was happy to guide me walking up another path he knew of up into a high pass at about 2800 meters. These plans made we ate a hearty supper and turned in ready for a 06:00 start next morning.

June 3rd : Up at 05:30 and after some welcome "Chi" and bread and cheese Paul and myself set out, we travelled up a track for about 5km in Pauls Toyota Land Cruiser, before setting out on foot into the mountains following the north-west bank of the river Koosarchall. Marsh Warblers were again very much in evidence with 18 singing males been noted. As we started to climb in the last bush of the tree line a glorious male Great Rosefinch revealed itself perched sunning and allowed us superb views. After that a strenuous five and a half hour climb up through some stunning scenery followed and we finally reached our objective a hanging valley at 2800 meters in the shadow of Sahdag Mountain at 4243 meters, which was absolutely alive with the Asian subspecies of Twite, the so called Asia Minor Twite (Carduelis flavirostris brevirostris), with more white on wings, black spots on breast and longer bill having less yellow. As we sat drinking Chi and eating home made bread and Marmite a strange wailing curlew like call began to emanate from our left and for a few frustrating minutes nothing showed, then a magnificent Caucasian Snowcock launched itself from the rocks and settled on a grassy slope some 100 meters below us giving great views and to add even more excitement to the moment a fine Snowfinch flew from where the Snowcock had landed and a pair of Wallcreepers foraged along the cliff right next to us a magic five minutes. Two more Snowcocks were seen and another three heard along with Chukar several Alpine Accentors and a Red-throated Pipit during the two hours we explored the area. Arrived back at lodgings 20:00 shattered but elated after a very successful day.

June 4th: After yesterdays exertions a lie in was in order and it was 08:00 before we broke cover, after breakfast we decided to split up again for our last day and arranged to meet up for lunch prior to our departure at 16:00. Pavel and Patrick decided to attempt some photography and I went down into the bottom of the gorge leading up to the village to explore there. This provided nothing much new a female Great Rosefinch at the start of my decent been the best.
After lunch we departed at 16:20 for our return to Baku. Birds en-route included Alpine and Red-billed Choughs, 71 Red-backed Shrikes, 121 Lesser Kestrels and a flock of 40 Rose-coloured Starlings providing some relief.
Invited by our guide to his summer dacha and arrived at 21:40 where we were treated to a fine supper provided by his charming wife. After a most welcome hot shower and a nice sight of Caspian Geckos I turned in for another good nights sleep.

June 5th : A more leisurely start to the day with a lie in and some RnR after breakfast. Golden Orioles feeding in the fruit trees of the garden were a fine sight.
Left for Gorbustan at 10:30 arrived Gorbustan at 13:50 to be greeted by a family party of Rock Nuthatches. Several black and white Wheatears were in evidence several Black-eared and two male Pied´s were noted. We also saw Finsche´s here but alas only managed to photograph Black-eared. Many Bush Robins too, and good to say about Agamas, Chukar and Long-legged Buzzard.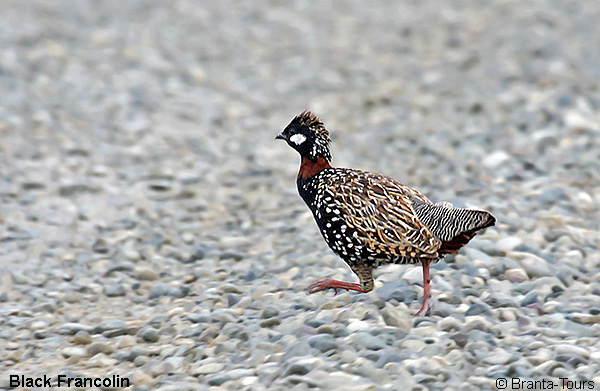 We left Gorbustan at about 17:30 aiming for our overnight stop at Shirvan National Park a huge area of 75,000 hectares and home to a large population of Goitered Gazelles. We arrived at Shirvan at 16:40 and were met by Hartmut Muller, a German fellow who was employed as an advisor to the Ministry of Ecology who had also worked with Pavel in previous years. Black Francolin and Ménétries´s Warbler were immediately ticked as we signed into the reserve. We birded the area until dusk when we picked up a Barn Owl which flew from roost under the observation tower roof. At least 4 Scops Owls and a Long-eared Owl were around the cottage after dark. Supper in a local café.

June 6th : Spent all day in Shirvan National Park birding and taking photographs, a fantastic place could have spent all week here. So much to see and explore. I would mention at Great Sand, Kentish, Ringed and Grey Plovers, Blue-cheeked Bee-eaters, Terns, Stone Curlew, Short-toed Eagle, Ferruginous and other Ducks, Herons etc... and some other wildlife maybe, Gazelles, rodents etc.